Hill Road Studios
13 Hill Road
Tel: 01273 477723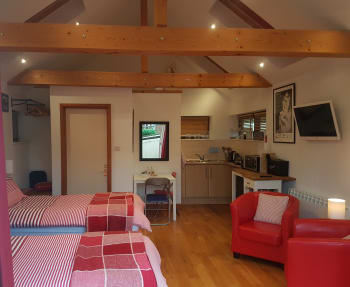 Hill Road Studios are set within the South Downs National Park in the County Town of Sussex. They are detached studio apartments with cooking facilities and en suite. Built to a high standard they have consistently achieved a four star rating with a silver award for service with Visit Britain and AA. State of the art heating controlled by the guest ensures comfort. The studios are highly insulated which ensure peace and quiet The Garden Studio is set within the terraced mature garden and both studios have patio areas with seating for outside dining with tremendous views. Longer stays are available on an entirely self catering basis, many guest have stayed for a week, or a month. The beds have been carefully chosen, 1500 pocketed springs memory foam topping stitched firm edge hypo allergenic. The shower rooms are large enough to shower and change in for mixed groups sharing, We regularly accommodate 4 in the Garden Studio with two extra Jaybee quality German made folding beds.
Facilities
Detached accommodation
Set in the South Downs National Park
Views of the Downs and Weald from the plot
Self Catering breakfast food supplied
Children Welcome
Garden For Residents' Use
Internet Access
Policies
Check In: Between 15:00 and 23:45
Check Out: Between 10:00 and 10:30
Wi-fi: Wireless internet is available and is free of charge.
Smoking: There is no smoking permitted anywhere within the property.
Parking: Parking for all guests is available on site and is free of charge.


Children: Children of all ages are welcome.
Pets: Pets are not allowed.
Groups: All groups are accepted.
Average
4.8
out of 5
76 reviews
100% recommend
Reviews
16th April 2019:

Would Recommend: Yes
11th March 2019:

Would Recommend: Yes
4th March 2019:

We stayed in the Garden Studio. Really great place and also great hosts. Everything we needed for a short stay for two friends. Really lovely
Would Recommend: Yes
26th February 2019:

Excellent, clean, well appointed accommodation which suited our needs. The owner Paul was friendly and helpful. He was there if needed but respected privacy at all time. Ideal for a B&B that the accommodation is separate from the main house. Lovely private garden area to enjoy the sunshine. Situated 10 minute walk from centre of Lewes. Would not stay anywhere else if visiting Lewes again.
Would Recommend: Yes
15th February 2019:

Located at a certain height above the town, gives views over the Downs. The studio is compact, clean, and well-stocked for breakfast but also equipped if the urge for self-catering appeals.
Tips:
The Studios would be a good 20-minute walk and climb from the station and the town centre. Lewes is compact, with many independent shops and hotels. Fortunately it retains the charm of narrow streets although this does lead to a one-way system which needs careful navigation. There is a good train service to London and other towns along the south coast, so could be a base for touring, especially for the walker.
Would Recommend: Yes
3rd January 2019:

We felt very well in this apartment, and we will be happy to stay with you when we visit our son and family in Lewes.
Tips:
East Sussex is a beautiful, gently rolling landscape. In addition, the city of Brighton is definitely worth a visit.
Would Recommend: Yes
20th December 2018:

Superbly appointed, immaculately clean studio with all you need for a home from home stay, including tea, coffee, sugar, milk and a fine selection of breakfast ingredients, as well as a fridge and basic - but quite adequate - cooking facilities as well as pots and pans and all manner of cooking utensils. Large TV with free Netflix, super fast internet, and the hosts who live close could not have been more genial and welcoming, without also not being intrusive. I cannot recommend this place enough.
Tips:
Lewes is a lovely town with a good selection of shops, restaurants and supermarkets.
Would Recommend: Yes
29th November 2018:

Very nice and cosy lodge, excellent cooking facilities and very warm, would gladly recommend, handy for parking which is very scarce in and around Brighton
Would Recommend: Yes
3rd October 2018:

Our 4th time staying with Cathy and Paul- says it all Always a warm and friendly welcome even got a lift to the station at the end of our stay
Tips:
Discovered excellent indian restaurant courtesy of Paul . Cant remember the name just the delicious food lewes is centrally placed to explore Sussex without the expense and hassle of Brighton A visit to the near by Amex stadium is a must if you follow "the world game "
Would Recommend: Yes
27th September 2018:

We only stayed one night, so did not have the opportunity of truly appreciating the setting of the studio. We were met on arrival and the studio was very comfortable. We enjoyed our stay.
Would Recommend: Yes
22nd August 2018:

Just a perfect 2 night stay for mum and myself, visiting Lewes for my sons wedding. We were very comfortable and our hosts most helpful.
Would Recommend: Yes
20th August 2018:

Impecable place! Out of our 4 week trip to europe and having done a combination of hotels and private rented properties, this was the best kept place. We only stayed one night because we went to a wedding, but we would surely have enjoyed it much more if we had had more time. It was extremely clean, the owners are super nice and the studio came with nice compliments such as tea, coffee, cereal and biscuits. Modern decoration also!
Would Recommend: Yes
16th August 2018:

Lovely to stay there, relaxed atmosphere, nice and helpful landlords
Tips:
Restaurants in Lewes Aqua and Bill´s , both on or near High Street , City Centre
Would Recommend: Yes
5th August 2018:

Would Recommend: Yes
26th July 2018:

Very comfortable at Hill Studios, everything you need provided and friendly hosts
Tips:
Good location, 25 min walk into Lewes. Also a short walk uphill to the south downs.
Would Recommend: Yes
20th July 2018:

Made to feel very welcome.
Tips:
Great location only 10 minute walk to Lewes town centre and a few more minutes to the station with easy access to Brighton. Would recommend the Rights of Man pub in Lewes for food and a friendly welcome
Would Recommend: Yes
6th July 2018:

An absolutely lovely little studio in a fantastic spot! The hosts Paul and Kathy are extremely welcoming and hospitable. Great place to explore the South Downs and Lewes/Brighton etc Thoroughly recommend!
Would Recommend: Yes
2nd July 2018:

Excellent location, ideal as a base for the South Downs Way. Much more flexible than a traditional B&B with ample self catering cold breakfast items provided. Friendly and welcoming hosts.
Tips:
Bill's restaurant/bar in Lewes town centre a nice place to sit ouside and watch the world go by!
Would Recommend: Yes
30th June 2018:

We were welcomed by Paul who was very happy to give us advice about walking in the area and places to eat etc. The room is large, bright and airy with comfortable beds and the location of the property is convenient, right on the Downs and close to Lewes. The bathroom was a little dated and breakfast was limited to some cereals and bread/jam/marmite but that suited us! Thoroughly enjoyed our stay.
Tips:
We found that unless you are looking for very traditional pub food -fish and chips/pies etc, the restaurants were limited. Some stunning walks in the area. We drove to Plumpton for a fabulous circular walk taking in Ditchling Beacon and another from Lewes centre to Glyndbourne. A great couple of days.
Would Recommend: Yes
25th June 2018:

Brilliant place to stay to see the region and Lewes. 5 min drive to Lewes centre or 30 min walk via picturesque route. Close to Black Cap with stunning views over countryside. Rooms clean and self-contained, including toilet/shower, TV, portable cooking hob, small ironing board and iron, small fridge, microwave and hairdryer. Paul is extremely knowledgeable about surrounding region and extremely friendly and helpful Highly recommended!
Tips:
Waitrose 5 min drive away and has free parking for 1.5 hours for customers. Flint Owl bakery close to Lewes is great if you prefer an alternative breakfast to that provided. Several small independent cafes in Lewes centre for breakfast.
Would Recommend: Yes
Owner Response:
Thanks for your kind comments!
28th May 2018:

We were very comfortable. Wish we'd had time to spend on the lovely patios. Host was helpful and attentive. Breakfast supplies were fresh daily and studio was straightened daily. This is a clean, private location, away from busy streets. Twenty-minute walk to town is through residential areas. We especially appreciated that the heated towel rail actually works, unlike in so many places.
Tips:
We used local bus service to visit Rodmell and Charleston and can recommend those historic houses. Lewes has much history itself and is well worth exploring. We can recommmend the Royal Oak pub for lunches.
Would Recommend: Yes
23rd April 2018:

Very comfortable place, and good facilities.
Would Recommend: Yes
9th April 2018:

Would Recommend: Yes
3rd April 2018:

Excellent!
Would Recommend: Yes
2nd April 2018:

Had a great stay the only thing is take eggs &bacon with you breakfast is their would stay here again oh yes
Tips:
Like I said bring bacon &eggs milk.bread.tea.coffe.butter all their
Would Recommend: Yes
20th February 2018:

Would Recommend: Yes
11th February 2018:

absolutely lovely stay, it was perfect for accessing the Downs and town. The hosts are really welcoming and cant wait to go back. Maybe take a look at the shower pressure though x
Tips:
The Pelham Inn is in walking distance and the food was awesome. The whole town though is filled with interesting nooks and crannies to explore. Easy train access to surrounding areas.
Would Recommend: Yes
7th February 2018:

A very impressive experience with all the comforts of home. I will certainly return when next in the area. Many thanks .
Would Recommend: Yes
6th November 2017:

Beautiful location on the hill and very clean and cozy spot
Would Recommend: Yes
10th October 2017:

Kathy and Paul are brilliant hosts and the accommodation and location are excellent.
Tips:
Well situated for Glyndebourne, the beach and good shopping.
Would Recommend: Yes
19th September 2017:

Tips:
Very comfortable accommodation has everything you need for an overnight or longer stay. I arrived quite late but it was well lit and parking outside was ideal. Hope to stay again and get the opportunity to explore more next time.
Would Recommend: Yes
16th September 2017:

Dear Paul I was very happy and welcome to spend two days in your Studio. Thank you very much! With friendly regards from Switzerland Judith
Would Recommend: Yes
6th September 2017:

Nice place to stay,Paul is a perfect host; we´ll be back soon.
Would Recommend: Yes
28th August 2017:

Would Recommend: Yes
24th August 2017:

Would Recommend: Yes
14th August 2017:

Lovely clean room perfect for a night at Glyndebourne. Very small ensuite but good for one night. Breakfast in room cereal and toast which is great as you can have it when you want it.
Would Recommend: Yes
12th August 2017:

Everything very clean and comfortable.
Tips:
We stayed to go to Glyndebourne for which the location is excellent. While here Lewes is well worth some time and we enjoyed a sea walk before heading home.
Would Recommend: Yes
12th August 2017:

Would Recommend: Yes
9th August 2017:

Tastefully decorated, compact studio that has everything you need, including breakfast provisions. I'd be very happy to stay again.
Would Recommend: Yes
9th August 2017:

Hosts so friendly, warm and welcoming, and a lift to the station was the cherry on the top.
Tips:
Great for Brighton, train which takes 10/15mins is so easy, and works out better value.
Would Recommend: Yes
8th August 2017:

Spotlessly clean. Everything you need for a scrummy breakfast. Very peaceful and quiet. Free parking. Pleasant stroll into Lewes.
Tips:
Should you find you've forgotten something there is a Londis about 5 mins walk away.
Would Recommend: Yes
7th August 2017:

Peaceful, secluded appartment a bit out of town. Nice private outside table/chairs at Garden studio for breakfast/relaxing. No 'living room' area, but comfortable bed and small kitchen facilities.
Would Recommend: Yes
1st August 2017:

Very welcoming when I arrived, room has everything you need and more! Love the different cereals and having fresh orange juice and coffees! Beautiful views from the top and very clean. I had a great stay!
Tips:
It was a fairly fleeting visit for me as I was going to a wedding so I didn't get to explore properly! I will, however, be making a return visit to Lewes!
Would Recommend: Yes
22nd July 2017:

Having spent a year staying in both the Studio and the Garden Studio during mid week I can honestly say that the experience could not have been surpassed. Paul and Kathy proved excellent hosts. My stay was for business but I'm sure that it would provide an excellent base for anyone wanting to visit the attractions of the area.
Tips:
Restaurants:- Erevan Thai Restaurant, Bill's, AskItalian. Certainly visit Charleston Farmhouse. Working too much to see much else!
Would Recommend: Yes
26th June 2017:

Would Recommend: Yes
20th June 2017:

Delightful accommodations! Meant to leave adaptor, they work only for devices that are suitable for dual voltage operation: 240 volt or 120 volt. I will probably paint landscapes from photos, can send you the image. Didn't mean to leave chocolate in fridge. Enjoy!
Tips:
We liked aqua italia for dinner, and the place across from Harvey's for breakfast. Nice walks through castle garden to Anne of Cleaves house.
Would Recommend: Yes
31st May 2017:

Fantastic place to stay. We had our own little beautiful house in the garden. It was clean and nice decorated and very comfortable beds. We could not have found a better place. The surroundings are stunning, and still your close to the center. Incredible hosts, Paul and Kathy they made us feel so welcomed. Great stay after a walk on the South Down Ways. I really hope to returned to see more of Lewes and to stay more days at Hill Road Studios.
Would Recommend: Yes
26th May 2017:

Lovely people,lovely place. I highly recommend Hill Road Studios to anyone who likes peace, tranquility and good quality accommodation.
Would Recommend: Yes
1st May 2017:

The bathroom window was umsatisfactory with missing handle. Also hot tap at the bathroom basin very stiff to turn off. A brief note about the shower hot water operation would be helpful. The quiet location was good and the beds were very comfortable,making a pleasant stay.
Would Recommend: Yes
Owner Response:
We have fixed the window handle now and loosened the tap. Thank you for your comments
1st May 2017:

Would Recommend: Yes
10th April 2017:

Stayed in The Suite - Well presented room, continental breakfast cereal and toast in room. Tea and coffee makings too - plenty of fresh milk. Small en-suite, but all you need - macinator can be quite noisy and goes off randomly during the night. Could do with a mirror the main room. We had a comfortable able stay and would consider again.
Tips:
The High Street is walkable - took us about 20 mins. We found a great Thai restaurant - Lemongrass
Would Recommend: Yes
16th January 2017:

Most welcoming! An excellent place to stay - a pleasant walk from a wide choice of pubs and restaurants.
Tips:
We enjoyed Earwan (Thai - near the station), The Rights of Man and Bill's
Would Recommend: Yes
3rd January 2017:

Thank you for a wonderful stay - we loved the garden studio and the location was superb.
Tips:
Lots of great pubs in the town centre and lots of great places to eat - make sure to make the most of them.
Would Recommend: Yes
11th November 2016:

Beautiful house & very welcoming host. Amazing view. We would have no second thoughts about staying again
Would Recommend: Yes
17th October 2016:

Just a couple of negative comments. In the sugar there was bits of something else and the bath towels were really small. It would of been nice to find some bacon and eggs in the fridge.
Would Recommend: Yes
21st September 2016:

Tips:
Tally Ho Pub just 10 mins walk down the hill provides good though simple meals and friendly service
Would Recommend: Yes
2nd September 2016:

Would Recommend: Yes
30th August 2016:

Pleasant and relaxed..
Would Recommend: Yes
29th August 2016:

Our weekend was exceptionally hot and the studio would have benefited from a fan and cotton bedding. We supplemented our breakfast which would otherwise have been disappointing.
Tips:
Lots of good restaurants in Lewes, advised to book in advance at the weekend.
Would Recommend: Yes
26th August 2016:

We had a lovely stay at the Hill Road Studios, facilities were excellent and everything was very comfortable.
Would Recommend: Yes
15th August 2016:

Very warm welcome by the owners. Everything was good!
Would Recommend: Yes
2nd August 2016:

Great spot with everything you need. Only quibble was the sound of the water sanitiser in the bathroom.
Would Recommend: Yes
Owner Response:
Thank you for the note about the sanitiser, which we have now replaced and is much quieter now.
2nd August 2016:

Helpful friendly owners.
Would Recommend: Yes
10th July 2016:

Would Recommend: Yes
27th June 2016:

very clean well set up accommodation, perfect for our needs. but if using for longer due to high windows no exterior view. and shower was " English" at its worst, very low flow rate.
Would Recommend: Yes
Owner Response:
We checked the flow rate of the shower and found it was set to "VERY HOT". This does reduce the flow rate. When we set it back to a normal temperature setting the flow rate was more than adequate. Any future guests please do let us know "in the moment" and we can address issues like this.
12th June 2016:

We had a very pleasant stay and enjoyed al fresco lunches on the charming garden terrace, with lovely views to the South Downs. Hill Road Studios are an excellent base for exploring the Sussex countryside and spectacular coastal paths. We found it very convenient for a visit to Glyndebourne.
Tips:
Lewes is a an interesting and attractive county town which is very walkable - weather permitting - we were lucky!
Would Recommend: Yes
11th June 2016:

Excellent facilities and suits my needs perfectly. Very friendly and welcoming and nothing is too much trouble
Tips:
Very convenient quiet location for the town and excellent views across the High Weald
Would Recommend: Yes
4th June 2016:

Fantastic to have a completely self-contained B&B unit with all one needs for a simple, continental breakfast on site. Really well fitted out and furnished. We would definitely stay here again! It's a ten minute walk from the centre of Lewes which is fine if the weather is good. But we had no difficulty finding a car park in Lewes when we needed to.
Tips:
We used this as a base to visit Ditchling Museum of Arts & Crafts, Lewes Castle, Alfriston Clergy House (NT), Charleston Farmhouse, Monks' House (NT) and Bodium Castle. We recommend the restaurant Famiglia Lazzati in Market St, Lewes, for great Italian food at a very reasonable price.
Would Recommend: Yes
29th May 2016:

Very well appointed garden suite located on the edge of town. Hosts were pleasant and interesting.
Tips:
Probably require a car.
Would Recommend: Yes
18th April 2016:

A besutiful location with stunning views. Garden studio is just lovely, very well furnished and equipped. The host are very friendly and care about the little details making sure their visitors have everything they need. We will most definitely be back.
Tips:
Was just a one night stay so didn't get to explore the area. Was perfectly located for Brighton Marathon and close to park & ride.. Had a lovely meal at Familia in Lewes
Would Recommend: Yes
10th March 2016:

Fantastic self-catering B&B. Well-appointed and cared for, good value, and booking etc very efficient. Would not be suitable for people with limited mobility but otherwise would recommend to anyone.
Would Recommend: Yes
18th August 2015:

We stayed for a couple of nights in the Garden Studio and were made to feel very welcome by the friendly owner. It had everything we would want from self-catering accommodation with the added bonus of having breakfast supplied within the Studio to enjoy at whatever time we chose, and in private. It's very spacious, clean and comfortable and with two patio areas available to use it was a perfect little hideaway.
Would Recommend: Yes
27th July 2015:

We stayed in Lewes for a wedding so didn't get to look around as much as we would have liked, but would definitely stay again. Lovely self contained with everything you would need for a short stay. Paul was a great host and kindly gave us a lift to the station as it was pouring with rain.
Would Recommend: Yes
16th June 2015:

Thoroughly recommended for a stay in Lewes . 10 minute walk to town centre , offering views of the Downs and countryside. Privacy is respected and there are outside areas to sit and relax.
Tips:
Try Bills Cafe for atmosphere and Flint Owl Bakery for coffee , bread and cakes.
Would Recommend: Yes
8th June 2015:

Beautiful place, the studios are well designed and adequately equipped - we thoroughly enjoyed our stay.
Would Recommend: Yes
25th May 2015:

Pleasant and helpful host.
Tips:
We used the studio as a base for going to Glyndebourne. This was a much better location that our previous trip when we stayed in Brighton.
Would Recommend: Yes
.